It would be hard not to talk about racism right now. In the wake of "no indictment" decisions in both the Michael Brown and Eric Garner trials, thousands have taken to the streets in mass protests - and here in Berkeley, the word "riot" has been bandied about and added to the mix, thanks to violent misbehavior during what should have been peaceful, non-violent demonstrations. But cop cars and buildings are being vandalized, windows broken and (embarrassingly), stores looted in the midst of it all. And while yes, emotions are running high and people are frustrated, it sounds like the more disruptive elements of this are from small clusters of anarchists and others using the protests as a cover for their own desire to create chaos and do damage - not from the people, many or most of them students, who are standing (and sitting and lying down) to show solidarity and trying to shine a light on the ugliness of systemic racism. So shattered windows, looting and fire being set to things in the street are made to look like a product of the protest, and the media has jumped on "look how violent Berkeley protestors are". Truly, it's a mess.
Texting to us from Telegraph on Saturday night, my step-daughter related how police were in riot gear and respirators, throwing tear gas and flash grenades into crowds they intentionally boxed in on both sides and
beating people
with billy clubs - not trying to stop or contain the vandals and looters, but taking out their frustration on peaceful protesters holding signs that said "#BlackLivesMatter" and chanting, "I Can't Breathe".
Photo by Pete Rosos via Berkeleyside
People, students near her... a few people away... were shoved to the ground, clubbed and sometimes stepped on as they tried to flee and couldn't get away in time. Reports flooded in through Twitter with photos and even video clips, as witness to what was going on (#BerkeleyProtests). Big armored vehicles rolled down University Avenue and across Shattuck, and rubber bullets were fired into the crowd... as thousands gathered to protest that our country's over-militarized police forces have become brutal and harmful to the citizens they are sworn to protect. This... is not helping. My husband and I sat up, not willing to go to bed until we knew for sure that our daughter was safe and home with most of the tear gas washed off her face and flushed out of her eyes. It was after midnight.
Let me back up a moment here and say that - raised by hippies and all - I
am
"pro-cop"; in order to be a civilized society (we can debate that later if you like... plenty of tinder to work with) we need laws and those who enforce them, and I'm not looking for an excuse to verbally abuse decent police officers who are just doing their jobs. I believe that most of them are "good cops", defending the peace, acting in the interest of the common good and doing their best to keep our communities, streets and people safe. I know that they risk their own safety and even their lives every time they start a work shift, and I truly appreciate and honor (and am in awe of) that. These are not the officers I'm talking about. And lest one think I'm being particularly harsh on local law enforcement, many of those out in force this weekend were State Troopers, not just Berkeley PD. It would seem that we've come to a place where whole portions of a force - and the leadership at the head of it - are not "protecting and serving" the people in their communities; and much of that is spurred by deep racism and a misguided sense of privilege or even superiority based on skin color and race.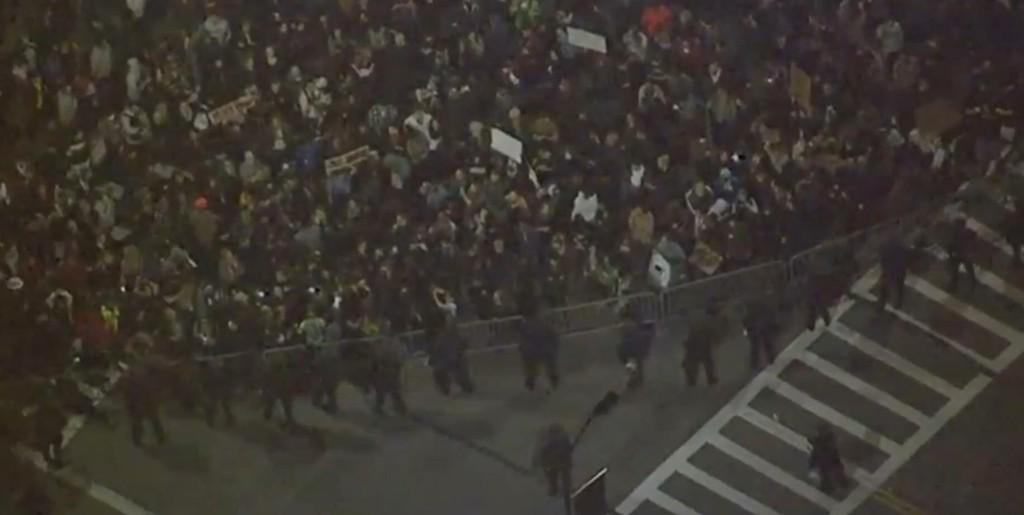 Photo by John Zangas via Twitter
On Sunday night the protests continued, with police action escalating faster and huge clouds of teargas or smoke bombs seen migrating across streets, choking and stinging, as more than 300 - then 450 - then 600-plus marched in the streets, demanding justice and fair treatment. The police managed to escalate matters further and quickly, angering hundreds of people at a time and hurting many, while the media continued to share sensationalized stories with headlines like, "
protests at UC Berkeley turn violent
", reporting "a wild and destructive protest" with participants smashing in windows and looting stores... never mind that while a few hangers-on were admittedly doing just that,
many more were trying to stop them
, shouting, "
peaceful
protest!" and physically blocking access to stores and bank windows. The chant had turned to
"Eric Garner, Michael Brown - tear it down, tear it down"
- which, while intended as a cry against a corrupt and violent system, didn't help in the light of damage being done. Concurrent protests and demonstrations across the country managed to remain peaceful, while Berkeley took on the guise of the L.A. riots; but we have to take this as a whole.
It has all and already gone too far.
I sat safe at home, watching escalating on-the-spot reports through Twitter,
Berkeleyside
and online news feeds, offering prayers for everyone's safety and sane conduct and wondering what else I can do. I changed my Facebook icon to "Black Lives Matter" in support, and received mostly tangible silence online. Yes I know -
ALL
lives matter; of course they do. And right now, being pale-skinned and privileged on account of birth, I don't think people who look like me are in particular need of defending, uplifting or understanding; high or low, we get that in due course because of the way the system is set up. So yes, ALL lives matter - and right now it's especially important to remind the world that that means people of color -
any
color.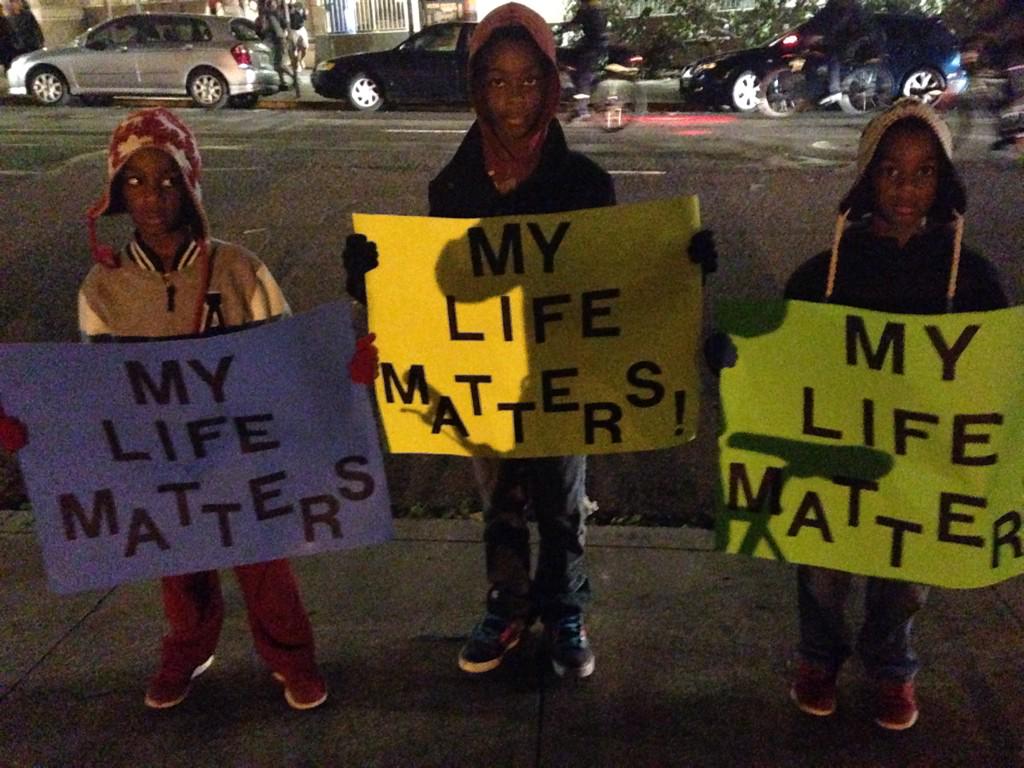 Photos by MattLukas1968 via Twitter & by Kelly Owen via Berkeleyside
I am a woman of faith living in a representative government and right now I am even more conscious than usual of
"the sins done on our behalf"
by people in power. Will the protests be heard, will changes be made in a system that has gone so far corrupt it needs many people at the top extracted like bad teeth? I don't know. But I have to hope that change is in the air, that justice held in abeyance and disregarded will be brought to bear, that the systemic, intrinsic racism my country runs on will be purged and damage begun to be repaired, lives healed. This is not a collection of misguided angry mobs that need to be quieted - it's a voice of thousands, a cry of injustice that needs to be heard and heeded. How can we bring healing and peace to our nation and the world? What can we do - in community, as
church
, as the hands and voice of Christ in the world; as individuals; as white people representing the majority in this country (though not for long, thankfully) - what can any or all of us do, here and now, to create the change that needs so desperately to happen in our world?
I don't have the answers - but I'm willing to ask the questions and see where they lead.
/12/8/14